Thank you for your interest in rescuing an animal with us. We only profile those animals on this page which are healthy and officially ready to be adopted. Our Critter Program is relatively small, so we do not have many adoptable critters at any given time.
Check back often as our website is updated as they become available!
Critter adoption fees range between $20 – $50.
AARCS' Critters include but are not limited to Rabbits, Guinea Pigs and Skinny Pigs.
There are NO Adoptable Animals at AARCS Safe Haven for viewing. All of our animals are available for adoption are in foster homes throughout Calgary and the surrounding area.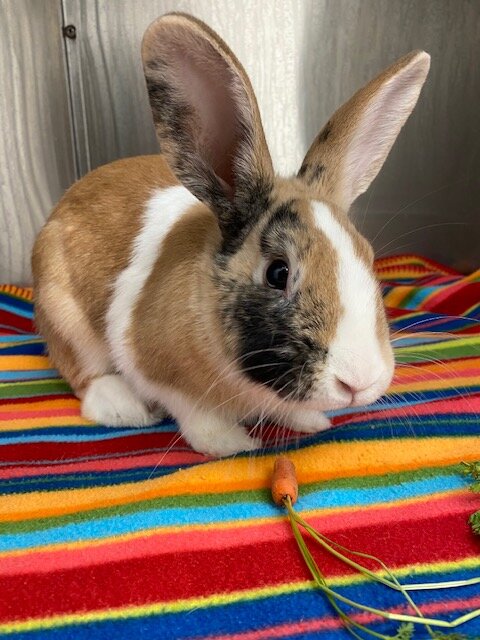 POPTART
Rabbit / Lionhead / 5 Months / Neutered Male / Edmonton
"Hiya Friends! I'm Poptart and I'm a friendly, curious little guy that is waiting to join you on many adventures! 🐰 I love to explore my surroundings, check things out and learn about everything that I come across! 🔍 I love to nibble on hay and to hop around to my heart's content. 🐇💚
Are you looking for a charismatic, playful bunny pal to add to your life? Then, I'm just the bunny for you! 💞 See you soon!" — XO, Poptart

TURNIP
Rabbit / Lionhead / 7 Months / Spayed Female / Calgary
"
Hi there, I'm Turnip and I would love to hop right into your heart and home! 🐰💗 I am quite an active bunny who enjoys hopping around and exploring.🐇 I can be shy but I'm a curious girl, give me some time and I'll warm up to you. I get excited when my foster mom gives me treats, my favourite time of the day is breakfast! 🥬🥕 My foster mom was very impressed with how good I am at using my litter box.
I live with two large dogs who talk all the time, the loud noises do not bother me. If you are looking for a sweet, adorable, fluffy fur friend then I'm the girl for you! 🐇 I can't wait to meet you!
" —
XO, Turnip 💞
NORI
Rabbit / American DSH X / 7 Months Old / Spayed Female / Calgary
"🎶  Can any bunny find me… some bunny to love?
I hop hard (she hops hard) every day of my life,
I hop 'til I ache to my bones,
At the end (at the end of the day) I take home (takes home) my hard-earned hay all on my own… 🎶
For a bun, I'm a shy diva. I like the quiet times to blitz around the house. Sit quietly and you'll see me explore the house — up and over couches, chairs and other furniture, and under tables. I might very well even jump into your lap. I like to get as high as I can go. I can be shy when first meeting you, but my heart is slowly won over with fresh veggies. Especially lettuce and other leafy greens!
I'm looking for a home with a lot of love to give. A fair bit of time outside of the rabbit hutch would be amazing, just make sure the space is bunny proofed. I can jump pretty high when I'm exploring, so a covered exercise pen would be best when I'm not supervised. I've lived with other rabbits previously and currently live with both cats and dogs. I'm a young bun, so I may do well with a bunny companion, given some patience and time to adjust. In this case a suite of my own would be best until everyone is settled in."  — XO Love Nori
Photos by Debby Herold Photography
ROSEBUD
Rabbit / American X / 1 Year / Female / Calgary
"It is the time you have spent on your rose that makes her so important." 🌹 — Antoine de Saint-Exupéry
"Do you like to keep things quiet in your life? Do you want an adorable companion to keep you company on cozy nights in? Let me introduce myself! My name is Rosebud, but I would be just as sweet by any other name. 🌹 My big brown eyes will absolutely melt your heart, and my soft fur is absolutely perfect for petting and cuddling! 🐰 I'm still very shy around new people and things but am slowly gaining my confidence to explore and be the bunny I'm meant to be. The most exciting thing for me to explore would be my new forever home! I'm not quite used to being inside yet however, and I need a lot of patience and understanding for you to be my new best friend. 💓
I would be best suited for a family who has previous experience with bunnies and are able to read my body language as I can be prone to getting overwhelmed with the excitement of adjusting to family life. I need a hideaway to retreat to when I need a break by myself, and an X-pen would give me lots of space to roam and relax safely when I'm not out and about in the house! New fruits and vegetables are also something I'm getting used to, in moderation of course. 🍎🥬
I can't wait to meet you and become the quietest, cutest part of your family!" — XO Love, Rosebud 🐰
Photos by Debby Herold Photos
SCRABBLES
Rabbit / 3 Months / Female / Calgary
"Hello there! Scrabbles is the name and I'm new to this family bunny thing. 🐰 My name suits me rather well. My favourite things are treats, especially if it's a 🥕 or a 🧁 tasting one! I will run right up to you if you have treats for me. Please provide me with daily greens and hay. 🥬🌿 Catching me can be tricky, but when you hold me tight I'll be just fine. I do love cuddles 💓 but please remember to give me time. 🕑 I am a very young bun after all.
I'm a big and beautiful girl with short grey locks, perfect for gentle petting. I'm sweet and quiet and love to hide to get away and have some me time. I currently live and get along with my foster 🐇 sister.
Are you ready for a sweet darling because I'm ready for you!" — XO Love, Scrabbles 🐰
Photos by Debby Herold Photography