Thank you for your interest in rescuing an animal with us. We only profile those animals on this page which are healthy and officially ready to be adopted. However, there are many more animals behind the scenes that are being nursed back to health by our incredible foster parents or are just too young to be put up for adoption.
Check back often as our website is updated daily!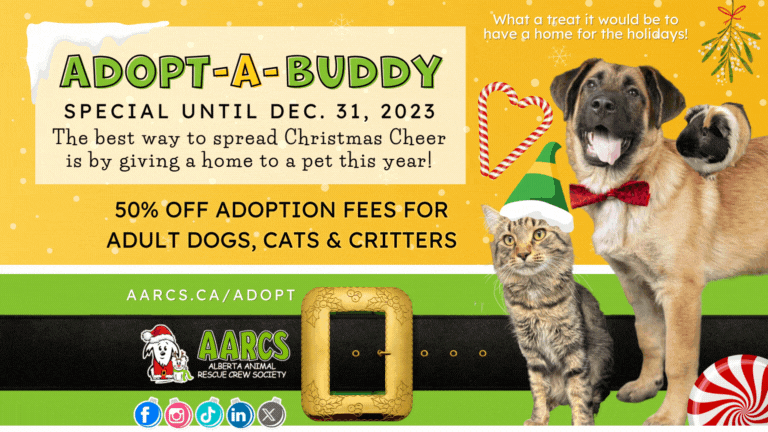 Met a Cat Through Our Pet Store Partner?
Interested in adopting a cat you met at a pet store? We don't always have profiles posted for the ones fostered through our partners, which means you might not find them listed here. It's important you make note of the cat's name and AARCS ID number (if you don't remember what it was, you can contact the pet store directly and ask an associate to provide it to you). Then, fill out the cat adoption application form. After that's been completed, an Adoption Coordinator will review your application and email you within 48 hours to update you on the status of your application. You can learn more about adopting through AARCS by visiting aarcs.ca/adoption-process.
All of our current Adoptable Cats can be viewed on this page. Our top section is dedicated to Adoptable Cats in the Calgary + Area and the bottom section is dedicated to Adoptable Cats located at AARCS North Haven in Edmonton, Alberta
Pending Applications
This means there is an adopter interested in the cat already. You can still apply for him/her, however, there is someone ahead of you that will have first opportunity to adopt.
Cat of the Week
Cats chosen for Cat of the Week have a reduced adoption fee of $50 for one week! If a Bonded Pair is chosen the Cat of the Week Duo will have a reduced adoption fee of $100! Senior kitties (9 years or older) chosen as our Cat of the Week have a reduced adoption fee of $40 for one week!
CALGARY + AREA
ADOPTABLE CATS
These Adoptable Cats are located in Foster Care throughout Calgary + Surrounding Area.
PLEASE NOTE:

There are NO Adoptable Animals at AARCS SAFE HAVEN in Calgary for viewing. Adoption Applications can be submitted directly through each animals profile.

NORTH HAVEN
ADOPTABLE CATS
Don't worry, if you can't find the purrfect match at North Haven, feel free to take another glance at our CATS in the Calgary + Area

We encourage you to come to our shelter during our public walk-in hours if you are interested in adopting. Email us at [email protected] if you have any questions.
OUR

WALK-IN

HOURS:
TUESDAY – FRIDAY:

12PM

—

7PM

SATURDAY + SUNDAY: 

 11AM

—

6PM
Thank you!
AARCS North Haven is located at:
8108 Coronet Rd NW, EDMONTON, AB T6E 4P1
24/7 Donation Bin Located East Side of Building