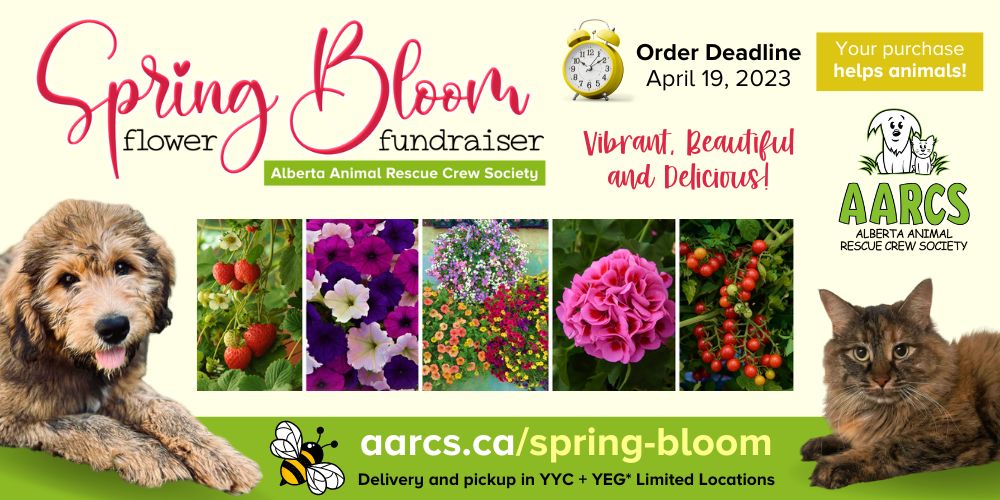 Date
Mar 07 2023

- Apr 19 2023
Expired!
🌼2023 Spring Bloom Fundraiser🌼
🌼🌼 It's flower time 🌼🌼
Yes, even with all the snow still on the ground, we are preparing for the spring weather!!
AARCS' 4th annual Spring Flower Fundraiser has a variety of beautiful 10' baskets, that are ready to hang.
🐕 😻Funds raised will go towards the care of the animals at Alberta Animal Rescue Crew Society 😻🐕
Each gorgeous basket is a low price of $32.50, add a bottle of organic fertilizer for just $15 and keep them
healthy and bountiful right into fall!
🚚 Deliveries will be made on May 10th, between the hours of 10 A.M. and 5 P.M. 🚚
Deliveries are ONLY available for the following areas:
Calgary and area: within Calgary city limits, Airdrie, Chestermere, and Okotoks
 Edmonton and area: within Edmonton city limits, St. Albert, Sherwood Park, Spruce Grove, Beaumont & Stoney Plain
There is a one-time charge of $15 for each delivery order. If you would like to ship orders to multiple locations, you MUST submit an individual order form for EACH location.
ORDER PICK-UP LOCATIONS:
AARCS SAFE HAVEN (5060 – 74 Avenue SE, Calgary, AB)
AARCS NORTH HAVEN (8108 Coronet Road NW, Edmonton, AB)
PICK-UP TIMES:
Friday, May 12 (3 p.m. – 7 p.m.) and Saturday, May 13 (9 a.m. – 3 p.m.)